ELASTOMERS
Orthodontic treatment should not be boring. We have a wide variety of funny colors in elastics, chains and ligatures that encourage patients to collaborate to ensure a good result.
ELASTIC CHAINS
SUPREME elastic chain. They are elastomeric, resist breakage, have great flexibility and memory. Solid color
There are three types of chain: Long, short, and continuous. This product is very sensitive to sunlight; for good duration keep it in the dark.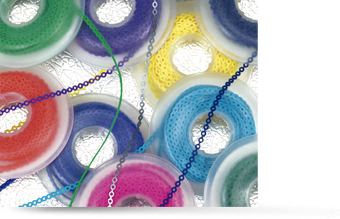 Transparent chain support
Support for chains Keeps the rolls organized and covered to avoid aerial germs and bacteria.
Capacity for 14 rolls of chain.